The territory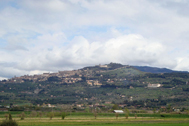 Nearly all of our villas are located in Cortona, an Etruscan and Medieval town between Lake Trasimeno and the Apennines, which dominates the whole Valdichiana from its 600 m a.s.l. The medieval buildings and narrow streets contribute to create a very intense atmosphere all around the town. The Basilica of Santa Margherita and the Franciscan Hermitage of Le Celle invite the tourists to discover Cortona, by offering an itinerary of art and faith a few steps away from the historical center.
There are two beautiful museums in the historical center of Cortona: the Diocesan Museum of Cortona and the Museum of the Etruscan Academy and the City of Cortona, called MAEC. The seat of the Diocesan Museum is in front of the Cathedral and is spread over nine exhibition halls. It gathers works of art from the 2nd century A.C. to modern art, coming from the churches of the town and preserved in this museum for security reasons. Here you will admire important works of painters Luca Signorelli, Pietro Lorenzetti and Fra Angelico.
The Museum of the Etruscan Academy and of the City of Cortona, called MAEC, was founded in the 18th century. Starting from that time, the members of the Etruscan Academy have donated their collections of works of art and handcraft, mainly objects that are very interesting from the archeological point of view, which were found in the territory around Cortona and dated to many different time eras. The Library, which is the second field of interest of the Academy, is located next to the museum. In 2008 new exhibition halls have been opened to the public to display new archeological findings from the Etruscan necropolis, which was discovered a few years ago in Sodo.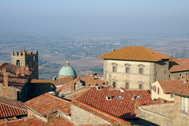 Cortona is not only a beautiful historical and art town, but also the venue for many important events that will make your stay even more pleasant and interesting. You cannot miss, for example, the theater season of Teatro Signorelli (from November to March), the Archidado Joust, the Tuscan Sun Festival and Cortonantiquaria, The National Antiques Exhibition and Market.
Apart from its artistic beauty, Cortona is also an important tourist destination thanks to its strategic geographical location. Cortona is very close to many important historical and art towns like Florence, Siena, Perugia, Pienza, Montepulciano, Montalcino, Arezzo, Assisi, Gubbio, Orvieto and Spoleto.
Only Villa la Pineta is located at the seaside, in San Vincenzo, one of the most important tourist destinations along the Costa degli Etruschi. Thanks to its mild climate, its natural shape, its central position on the Tyrrhenian coast, San Vincenzo is a place where you can go on holiday all over the year, not only in the summer. Its white sand beaches run along the coast for 12 km and there is a thick maquis shrubland behind most part of the beaches.