Villas in Cortona, Villa Santa Maria Cortona
The Villa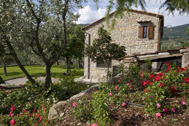 Villa Santa Maria is located in the heart of the most beautiful part of Tuscany, in a dominant position surrounded by a garden of olive trees. This lovely country villa, which has been completely renovated, can accommodate up to 15 people. It represents the ideal villa for those who are looking for a quiet holiday characterized by privacy, relax and elegance. It is swathed in an atmosphere of the past, and is far away from modern life frenzy. But attention has been paid to preserve rural traditions at the same time.
Villa Santa Maria has been built on the hillside and is very close to the Etruscan town of Cortona (which is walking distance). In the wonderful frame of Santa Maria Nuova you can also admire this impressive church of the 16th century that was designed by famous architect Giorgio Vasari.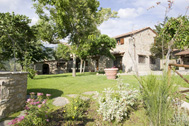 This villa is a few hundred meters away from Villa Olea, another villa we own in the same area. The two houses are linked by a lovely path among olive trees and can accommodate up to 24 people, meeting the needs of larger groups of people. Both the villas enjoy a privileged view onto the valley below, as if they were on a terrace onto Valdichiana. Its strategic location makes of Villa Santa Maria the ideal departure place to reach easily and quickly the most important artistic and cultural destinations in Tuscany and Umbria, such as Montepulciano, Pienza, Siena, Assisi, Perugia and a thousand more. The swimming pool, the olive trees garden, the blossoming pergola and the old outdoor wood stove make this place an oasis of peace and relax.
The general atmosphere is of endless serenity, in perfect harmony with unique landscapes, which are characterized by changing colors with the alternation of seasons: warm fall colors, silent winter white, spring awakening and summer happiness. A timeless place and a romantic atmosphere will be the basic ingredients of your holidays, together with the exclusiveness and privacy of a villa surrounded by nature.