Villas in Cortona, Casale Cantalena Cortona
The Country House and Park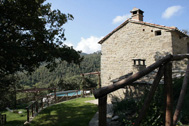 "Casale Cantalena" is a small villa that can accommodate up to 4 people, completely independent and swathed in the beautiful surrounding landscape. Its interiors are rustic but tidy and the park with swimming pool on the front side is simply perfect to spend a lovely holiday enshrouded in an atmosphere where time seems to have stood still.
The country house is located in Cantalena, a rural small village in the mountains around Cortona, where you still breathe the air of old rural traditions that have been generally kept intact.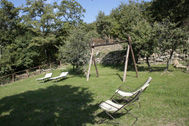 The surrounding nature offers unique landscapes that are characterized by different colors and atmospheres changing with the alternation of seasons: warm fall colors of chestnut leaves, silent white of winter on fir and pine branches, sweet colors of spring awakening and summer brightness when sun makes the whole green mountain shine.