Villas in Cortona, Villa Olea Cortona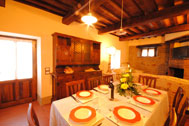 Interiors
The villa can accommodate up to 9 people in 4 double bedrooms:
3 in the country house;
1 in the small guest-house.
The Country House
The house is spread over two floors, which are both accessible from the garden area thanks to the surrounding terraced fields.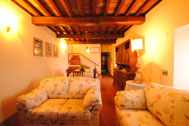 An open plan staircase in terracotta tiles placed in the living room leads to the first floor, where there are 3 double bedrooms (one with king-size bed and a single bed) and two bathrooms with shower.
The bedrooms are all different in color and furniture but they all have a wonderful view onto the valley. Nothing is left to chance; the colors and the tiniest details will make your stay a unique experience.
The small guest-house
The small guest-house is a few meters from the country house. Here you can find the fourth double bedroom with in-suite bathroom with shower.
The plan of the villa