Villas in Cortona, Villa Santa Maria Cortona
Interiors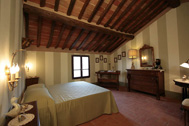 The villa can accommodate up to 15 people in 7 double rooms:
6 in the villa;
1 in the guest-house next to the swimming pool.
The Villa
The villa has two floors: you can enter the ground floor from the garden, while you can access the first floor through an open plan staircase in terracotta tiles. Wooden ceilings and original floors frame these elegant and welcoming rooms.
On the ground floor there is a big living room, a sitting room with fireplace and a modern fully equipped kitchen that can meet all your needs. A large shady pergola, completely furnished and close to the living room and the kitchen, will give you the chance to have lunch or dinner in the open air or to relax reading a book and enjoying the beautiful view onto the valley.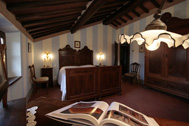 Two double bedrooms are also located on the ground floor, and one has got an idependent entrance from the garden. Both these bedrooms have in-suite bathroom with shower. On the first floor you can find the other 4 double bedrooms: 3 have a king-size bed, whereas the other has got twin beds. Every room has an in-suite bathroom with shower or bathtub. They are all different from one another, but they all show the charm and elegance that characterize the whole property. Every room is painted with a different color and has different furniture, but there is a wonderful view onto the valley from every window. Nothing is left to chance; the colors and the tiniest details will make your stay a unique experience.
The guest-house
This is a real nest, a big suite with private entrance from the garden next to the swimming pool, which is located on the terrace below the villa. A small living room with a big French window open onto the valley serves as entrance hall. The bedroom is enriched with an old decorated wrought iron bed and a small wooden bed. This room has a big bathroom with shower and a walk-in closet.
The plan of the villa